How to Sell Online in India: Sector Profile and Step-by-Step Guide
Published on
Oct 22, 2021

Posted by India Briefing
Step-by-step guide on starting an online business in India, ecommerce trends and emerging business models.
100% foreign direct investment (FDI) allowed in B2B e-commerce and e-commerce marketplace mode.
Permitted with government approval 100% e-commerce FDI from food retail companies if the goods sold at retail are manufactured and / or processed in India.
Ecommerce platforms, spurred on by the rise of smartphones, an ever-expanding internet user base and increasing consumer wealth, have revolutionized the way business is done in India. In the country, online retail, currently estimated at 25% of the total organized retail market, is projected to reach 37% by 2030.
The use of the online market in India is significant: it addresses a large domestic market base, rapidly growing Level 2 and Level 3 cities , a relatively young and trend-conscious consumer base, with growing disposable incomes. It can count on various digital payment platforms, improved "last mile" logistics implemented by localized start-ups and, after last year's lockdowns, on the acceleration of the preference for online shopping in urban areas, also thanks to a greater integration of e-marketplaces such as Amazon, Zomato, Myntra etc. with social media platforms such as Facebook and Instagram. This behavior has also been reflected in the growth of online commercial services such as gaming and fitness .
These growth trends and shifting consumption patterns create very attractive opportunities for foreign companies that previously hesitated to enter the country's traditional retail space.
How to sell online in India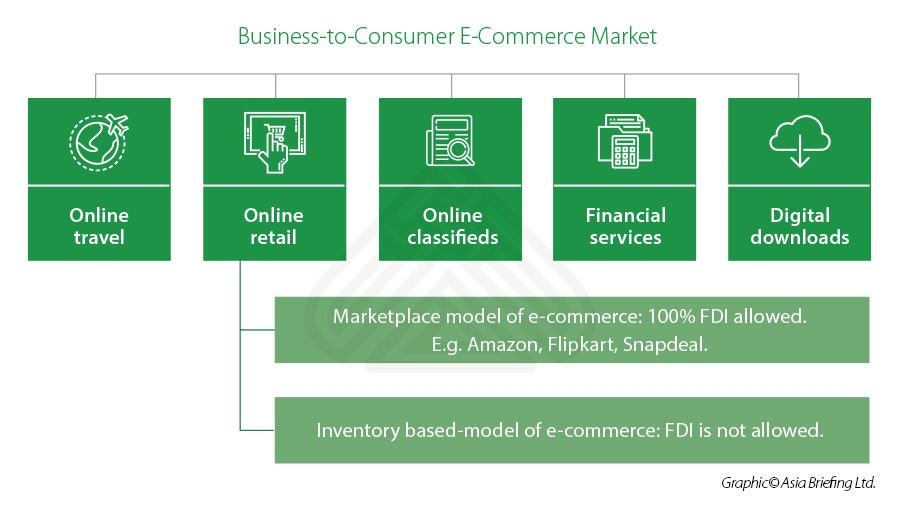 Step-by-step guide on how to sell online in India
Discover the niche market
The first step is to create the product or products to sell and to carry out the market research that concerns them. Once the feasibility of costs has been ascertained, it is important to create a digital catalog of the products for sale that includes the code, name, description, category and sale price of each product, the discount (if any), the brand, color and other pertinent characteristics.
Choice of a business model
Build your own e-commerce website
Creating an exclusive e-commerce site is useful in case the seller has a single product to sell. However, consolidating your presence on the market is expensive and time-consuming. Among other things, it requires the creation of an online store, the integration of a secure payment portal and the construction of a logistics chain. It is suitable for sellers looking for a long-term presence and who intend to focus on building their own brand.
Sale on existing marketplace
Selling on an existing marketplace such as Amazon, Myntra or Flipkart is the simplest and most convenient way to sell products online, as the seller does not have to worry about problems regarding the development of logistics, payment portals or distribution channels in what is already managed by the marketplace. Foreign traders can refer to any of these marketplaces. The procedure requires the registration of the company, obtaining a tax code and opening a bank account. The marketplace will then take care of logistics and payments.
Selling on social media platforms
Social networks platforms, short video, image and chat platforms such as Facebook, Instagram, WhatsApp, Twitter etc., have gained popularity thanks to their widespread use among consumers. In addition to this, they have become an essential component in the digital marketing strategies of e-commerce and offline retail operators to improve their presence and visibility among consumers.
Company registration
There are three forms of company registration.
Individual firm;
Limited liability partnership (LLP).

Private or public limited company; And
The private company with limited liability is often considered the most appropriate solution for smaller companies and for foreign ones, thanks to an easier, less expensive and less rigorous registration process that requires limited documentation compared to the LLP that instead must comply stricter regulations.
Logistics
An existing marketplace will take care of the logistics, but if the company decides to launch its own e-commerce store, the logistics will involve greater times and costs; however, investing in efficient logistics will prove beneficial to the brand image in the long run.
International logistics companies such as FedEx and UPS operate in India. Other operators such as DTDC, Delhivery, Bluedart, DHL etc. they have created efficient supply chains across the country. With the help of logistics related technology and the growth of hyper-local start-ups like Swiggy Go, Dunzo etc, delivery options are improving - even serving the inland regions of India, such as Tier 2 cities and zones. and 3.
Payments
When creating your own e-commerce site, in addition to creating a payment portal, it is important to include the payment on delivery (COD) option, which is particularly popular with Indian consumers. However, this option is expensive for merchants who have to pay various taxes in addition to delivery costs. However, as digitalization increases, digital wallets and payment apps like Paytm and GooglePay are gaining ground.
The adoption of digital payments, supported by the fear of contacts during the pandemic, is becoming a necessity. COVID-19 has prompted large groups of the Indian population linked to cash payments to become familiar with online payments - a transition that would otherwise have required considerable time costs, given the skepticism among the population in solving economic issues online.
E-commerce industry in India: Market size, trends and key players
Led by e-commerce giants such as Amazon India, Flipkart, Myntra etc., the Indian e-commerce market is riding the wave of consumerism in the country that has taken hold since 2005 thanks to favorable market conditions and to political support. In 2018, the size of the Indian e-commerce market was approximately $ 50 billion and is expected to reach $ 200 billion by 2027.
Although the e-commerce industry suffered a setback due to the pandemic (except for specific sectors concerning daily consumption needs), the loss of momentum quickly reversed its trend.
Following the closures related to COVID-19 and periodic lockdowns , the online retail sector has seen a surge in the number of novice shoppers and an increase in consumption by those already familiar with. online shopping.
Due to the high risk of contagion, many consumers, particularly in urban areas, still seem to be wary of shopping at offline markets.
This surge in the post-COVID e-commerce industry is also confirmed by " The 2021 Global Payments Report " from fintech company Worldpay FIS. The report predicts an 84% growth in the global e-commerce sector, which, driven by mobile purchases, could reach US $ 111 billion by 2024.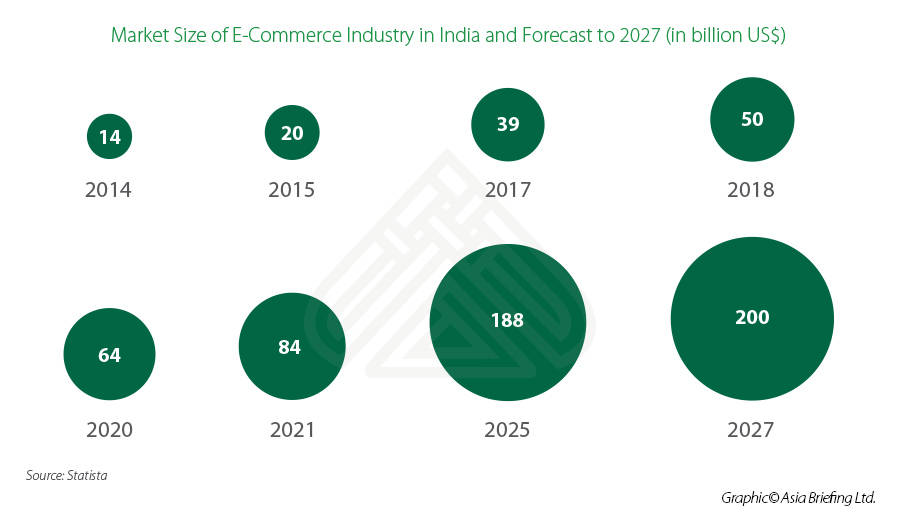 The data reveals that in the retail e-commerce market, electronics and consumer equipment take the leading share with 40% each. The fashion apparel market is growing at a CAGR of 11%, within which the online fashion segment is growing fastest with a CAGR of 32%. In the online apparel segment, platforms such as Myntra, Jabong, Ajio and Limeroad lead the way by making fashion more accessible to the masses. Leading apparel and cosmetics giants H&M, Uniqlo, Zara, Marks & Spencer and MAC also worked on increasing their online presence in India last year. H &
Meanwhile, the Indian food and grocery sector is heating up, spurred by fierce competition between start-up platforms such as Flipkart, BigBasket, Zomato and Swiggy, and the entry of Amazon and the traditional retail group Reliance JioMart. .
Consumers can access a wide range of products and offerings in almost any industry, and each platform seeks to build customer loyalty. According to a report by consulting firm RedSeer and online grocery start-up BigBasket, the total size of the e-commerce food market was projected to increase from USD 1.9 billion in 2019 to USD 3 billion in 2020. This growth is being driven by several factors, most notably the decision to allow 100% FDI in the food retail market.
The lockdown also introduced some changes across the country and widened the perception of kirana (small family-run) shop owners who were previously skeptical of their integration with the e-commerce sector. Kirana's network of owners, with a strength of 12 million units, takes the lion's share of India's retail market and the integration with e-commerce platforms will ensure seamless distribution of goods throughout. the length and breadth of the Indian territory. Flipkart entered into partnerships with 27,000 Kirana stores covering 700 cities, while Amazon has developed deals with 20,000 of them.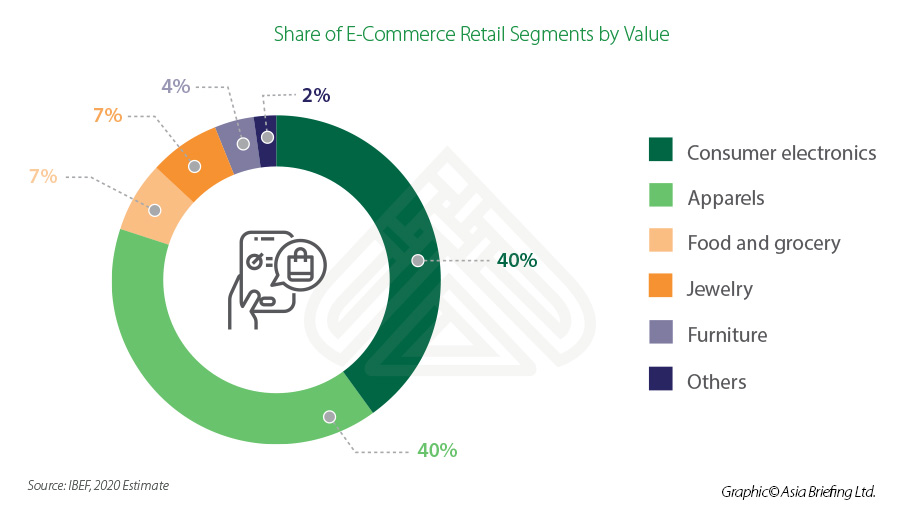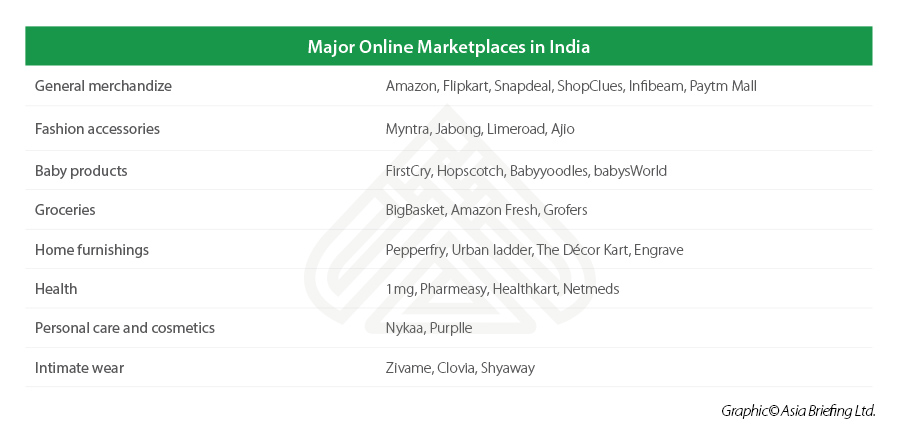 Driver of the e-commerce industry in India
Thanks to a large market, demographically young, India adds around 10 million active internet users on a monthly basis daily. The growing population and disposable incomes in Level 2 and Level 3 cities, together with the still underserved rural market, promise immense potential for the sector. In 2018, smartphone penetration per 100 people increased from 5.4 in 2014 to 26.2. The number of internet connections in India went from 560 million in 2018 to 760 million in 2020. The modernization of the digital payment infrastructure, backed by BHIM / UPI and NEFT, has pushed the growth of Indian e-commerce by facilitating the convenience in payments. Digital wallet start-ups, such as Paytm, PhonePe, MobiKwik, etc. they also appeal to the large population without a banking network.
Other factors such as mail reliability, which can aid in the smooth delivery of services, and the increase in the introduction of bank accounts, with the help of support activities have also contributed to the impressive rise of the e-commerce industry. as JAM (Jan Dhan-Aadhar-Mobile).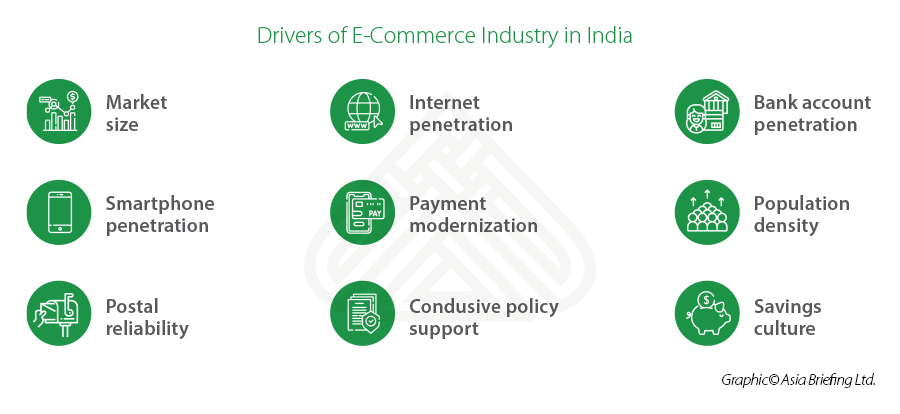 Government policy support
Ecommerce Policy Draft : India's draft National Ecommerce Government Decree encourages FDI in the marketplace e-commerce model. According to the draft, for sites and applications operating in India, the presence of a registered entity is required.
Bharat Net and Digital India : Building on the Movement for Digital India, the government has launched various initiatives such as the Unified Mobile Application for New Era Governance (UMANG), the Bharat Interface for Money ( BHIM) etc. BHIM has led the way in linking payments directly through banks, eliminating the need to first transfer money to mobile wallets, as was previously required by Paytm, PhonePe etc. To make digital payments, most individuals have adopted the unified payment interface (UPI). In addition, massive budget allocations of $ 95.33 million were made in the financial year 2021-22 to achieve the goal of mass digitization in the country.
National Retail Policy : The government has proposed a National Retail Policy in which five key points are recognized - ease of doing business, rationalization of licensing, digitalization of retail, focus on reform, and open network for digital commerce. The proposed policy aims to integrate the management of retail and e-commerce.

2020 Consumer Protection (E-Commerce) Rules: These rules govern e-commerce companies with country of origin highlighted next to product listings. They will also have to highlight aspects such as the image of the product, its name, description, characteristics, price of the product and reviews that will determine the list of products on e-commerce platforms.
As the Indian market is still in the process of adapting when it comes to online shopping, these requirements will ensure the credibility of the seller and increase consumer confidence.
E-commerce ecosystem: To enable easy access for everyone, including small traders and manufacturers, the Department for the Promotion of Industry and Domestic Trade established a steering committee for the formulation, implementation and overseeing the policies of the Open Network for Digital Commerce (ONDC). It is a neutral platform that will work to fine-tune cataloging, vendor identification and pricing protocols. The goal is to provide equal opportunities to all marketplace players, including consumers.

5G Network: The Indian government has made major investments in the development of the 5G fiber network that will help stimulate e-commerce in the country.
The business model based on social commerce
The data shows that online stores on social media have seen an average increase in sales of 32% compared to stores that do not.
Social media therefore ranks among the most powerful digital marketing tools - an important evidence given the amount of time we spend on average on our smartphones. And even more interesting is the fact that these social media channels are also evolving into new e-marketplaces.
The reach of social media has driven the development of a new industry, social commerce, an internet-based model for small and medium-sized businesses. According to the Indian government , WhatsApp (530 million users), YouTube (448 million users), Facebook (410 million users), Instagram (210 million users) and Twitter (17.5 million users) reached a total in India. of over 1.61 billion users, amplifying the search for products as well as allowing direct communication between buyers and sellers.
Instagram, for example, allows companies to share photos, make video calls and host surveys that help improve sales planning as they can highlight niche situations or new trends and can give the impetus to develop products to put, accordingly. , on the market. Given that many social commerce businesses tend to have limited working capital, this flexibility and consumer engagement can be invaluable. Furthermore, the rise of social media influencers, as a new form of marketing approach, will inevitably reinforce the exposure of social commerce companies. According to a consulting report Bain & Company's social commerce market is currently estimated at USD 1.5 billion to USD 2 billion - with growth projections of USD 20 billion over five years and USD 70 billion by 2030.
Adapting to the model, already established ecommerce marketplaces are exploring other ways to reach SMEs and / or hyper-local businesses, such as Flipkart which recently launched an independent 2GUD platform to connect offline stores with customers, and showcase products. through long-format videos .
Other business models that have transformed the social commerce space are group selling and buying models. The main examples of social sales platforms are Meesho, GlowRoad, Shop 101, Bulbul and SimSim - the users of these platforms / apps are called resellers .
The advantages of these platforms include a digital inventory of products offered by suppliers at wholesale prices, logistics services, customer services, integration with social channels, as well as the possibility of a personal sub-domain and a free showcase (GlowRoad) .
For example, the Bengaluru-based Meesho app provides an alternative distribution channel for suppliers' extensive list of product catalogs, which can be found by individual companies using their social media contacts. According to the company, YourStory reported, Meesho has "built a network of two million" social vendors ", of which nearly 80% are women who sell products from over 15,000 suppliers in over 700 small towns. Its app is available in seven local languages, with 40% of its daily active users (DAUs) being part of the non-English speaking population. " Meesho is also one of the most funded startups in the sector, including, among investors, Facebook, Sequoia Capital, Shunwei Capital, SAIF Partners, Y Combinator.
India Briefing is produced by Dezan Shira & Associates. With offices in China, Hong Kong, Vietnam, India, Indonesia, Singapore, Germany, Italy, the United States and Russia, Dezan Shira has been supporting foreign investors in Asia for three decades.